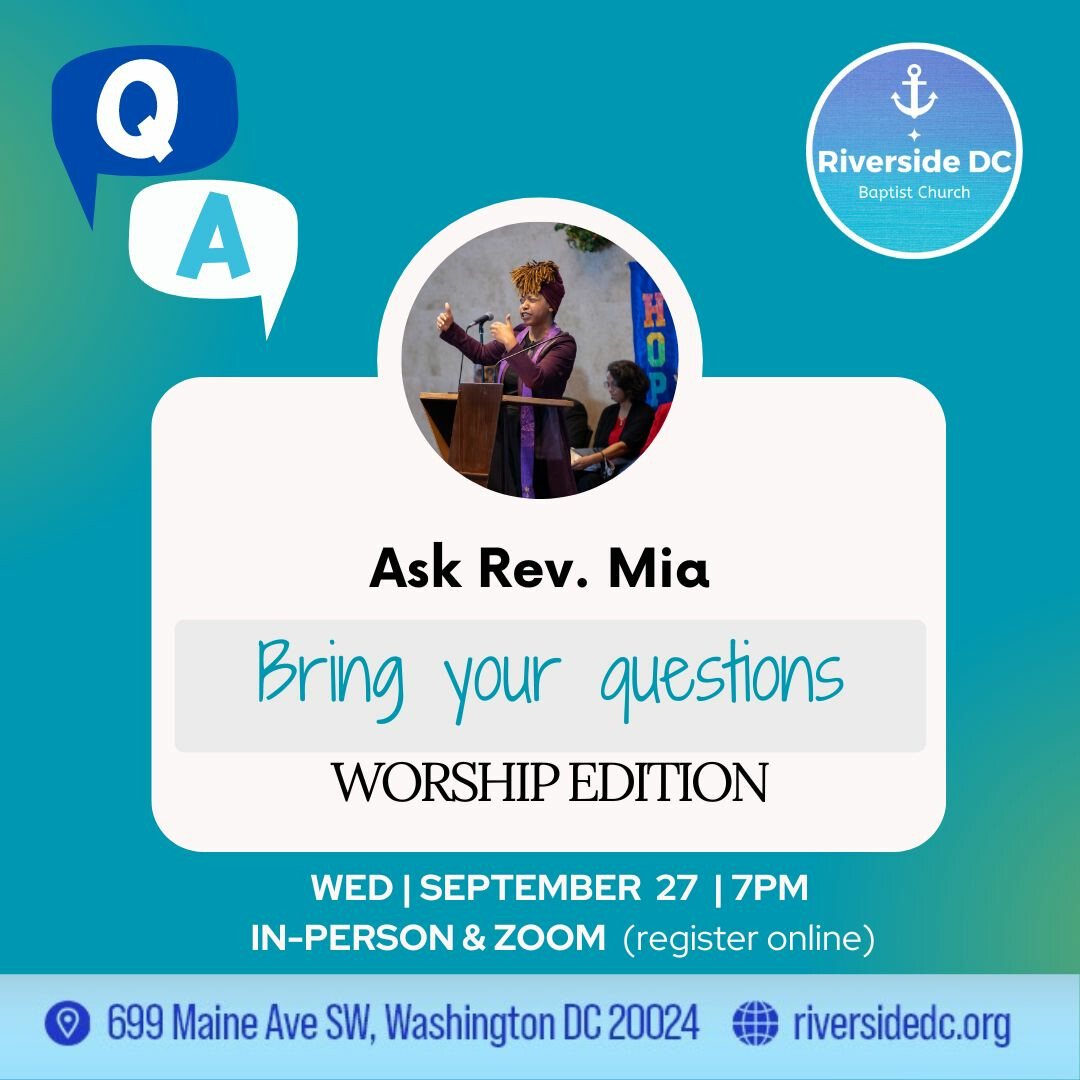 September 27, 2023 7:00 pm
September 27, 2023
Room: Zoom, Bob Nelson Multipurpose Room
Contact:
Mia McClain
| Email
| 2025544330
We are talking all this worship! - Why we worship, How we worship, When we worship, Who we worship, and more.
This session will allow participants to ask questions about worship at Riverside DC and worship beyond our church. This is in conjunction with the 5-part preaching series, What's Worship Got To Do With It?, beginning on Sunday, September 10, 2023.
Reflecting on various traditions, we will talk about music, prayer, the sermon moment, communion, baptism, and so much more. Bring your questions! We may not be able to answer everything, but we will do our best to point you in the right direction.
For more information, email pastor@riversidedc.org
Wednesday, September 27, 2023 at 7pm.
JOIN IN-PERSON (Doors open at 6:30pm)
Nelson Multipurpose Room
699 Maine Ave SW
Washington D.C. 20024
JOIN IN VIRTUALLY (Please use a recognizable name to login to Zoom)
Topic: Ask Rev. Mia - Worship Edition
Time: Sep 27, 2023 07:00 PM Eastern Time (US and Canada)
Join Zoom Meeting
https://us06web.zoom.us/j/84710445739?pwd=MUswajlLa0pDSUx3QUdPaUdXbnA0Zz09
Meeting ID: 847 1044 5739
Passcode: 699